Welcome to Red Oak, Iowa!
Among the early residents of Montgomery County were Native Americans, dating back to over 10,000 years ago. The earliest white settlers arrived in the early 1850's settling near a small stream they named Red Oak creek for the Red Oak trees that grew along the banks. Montgomery County was formed in 1851 and named after Revolutionary War hero, Richard Montgomery.
The settlement of Red Oak was officially made the Montgomery County seat in 1865. It grew slowly at first, numbering only about 50 houses in 1869, when the Chicago, Burlington & Pacific Railroad line came through town. In the same year, the town of Red Oak Junction was officially organized ("Junction" was dropped in 1901).
The arrival of the railroad triggered rapid growth and an influx of wealth to Red Oak over the next decade. The town became the trading center for the entire region, and new industries developed quickly, including a meat packing plant, a brewery, a cannery, flour mills, and a brick and tile works. At the height of the town's prosperity, around the turn of the century, several fine community buildings including the Montgomery County Courthouse, were constructed. Wealthy merchants, as well as railroad officials, built many splendid homes on Red Oak's east side. These homes stand today as a tangible reminder of Red Oak's storied past; several of the structures are on the National Historic Register. 
Red Oak has a proud military history and heritage. Red Oak natives have fought for their country in every engagement since the Civil War. Red Oak's Company M suffered 160 causalities among its 250 members; 52 men were killed in action.
The town has a particularly strong and moving connection with World War II history. Red Oak lost more of its sons, per capita, in the conflict that any other community in the United States. Residents would gather daily at Red Oak's Johnson Hotel to await and exchange news about the war. Indeed, one particularly tragic day – March 6, 1943 – more than 100 telegrams arrived bearing news of Red Oak soldiers missing in action. Red Oak gained the recognition and gratitude of the nation, which was expressed in 1944 with the U.S. Navy's christening of Red Oak Victory, a cargo and ammunition ship which played on important role in the Pacific theater. Despite her hazardous tour of duty, Red Oak Victory did not suffer a single causality. Today, Red Oak Victory is one of the few remaining Victory ships. She is maintained under the care of the Richmond Museum of History in Richmond, California.
Remembrance and reverence for the sacrifices of her sons and daughters is an integral part of the Red Oak community. Each Memorial Day, more than 1,500 flags, donated by the families of war veterans, fly Red Oak's Evergreen Cemetery. The Montgomery County Court of Honor sponsors special ceremonies each Memorial Day and Veterans Day.
In the town square, memorials have been erected for veterans of World War 1, World War II, the Korean War and the Vietnam War. The fountain in the square is a tribute to the men lost during World War I.
The Birthplace of Art Calendars
In 1888, during the construction of the Montgomery County Courthouse, Red Oak residents Edmond Osborne and Thomas D. Murphy purchased a woodcut of the new structure, not realizing that they were helping to not only immortalize the courthouse, but also to create a new art form.
To cover the costs of purchasing and printing the woodcut, the two entrepreneurs decided to add a calendar pad and sell advertising around the picture to local merchants. The project was so successful that they went on to start a business to create picture calendars, the Thomas D. Murphy Calendar Company, which operated for over 100 years. Thus, Red Oak is known as the birthplace of the decorative art calendar industry.
Though no longer in business, Murphy Calendar Company is still a part of Red Oak. The company building is part of the Heritage Hill Tour. Also, because of the company's history and because at least one copy of each calendar the company printed has been preserved, Murphy calendars have become coveted and are valuable collector's items.
The Red Oak Trails is the newest addition to our well used recreation opportunities. If you start at the YMCA and travel east toward the top of the hill at Eastern Ave., then return downhill, back to where you started, you will have hiked, or biked, or cross country skied 2.7 miles.
Along the way, you will have plenty of places to sit and rest, wander through the apple orchard, watch a lot of wildlife, or enjoy the history that is present on many pieces of sculpted monuments from the 1800's and early 1900's in Evergreen Cemetery. Our cemetery is also a historical encyclopedia of past events and people. You can't get lost on the trail, but your mind will wander as the beauty of nature and the friends you meet along the way make the experience so enjoyable.
Whether you are on the trail in springtime, with its flowers popping up, or in the fall when the leaves on the burning bush are turning blazing red, the joy of the trip will be part of your, memories for a long time. Be careful though, there are people who power walk, many who jog, and many who just enjoy a leisurely stroll in the early morning or in the late afternoon after a day's work. Trailhead information is in Legion Park 
Flying Into Red Oak, Iowa
The Red Oak Municipal Airport is a modern facility with 24-hour jet fuel and V gas availability, courtesy car service, flight instruction, an overnight lobby, two paved runways, with the primary runway being 5,100 feet long, plus a turf runway, and a corporate hanger.
Monitor 122.08 for active runway
A.W.O.S. frequency 119.775
Hangar spaces available. Cessna 150 for rent.
Serving Montgomery County since 1920, the Montgomery County Memorial Hospital (MCMH) is truly the health care leader in southwest Iowa.
MCMH offers a wide range of patient services, emergency department; women's health center; birthing center; a breast health clinic; cardiac and pulmonary rehabilitation; diabetes education; Heartland Home Health; Heartland Hospice; a laboratory; nutrition education; physical therapy; radiology; social services; and Work Health Solutions. MCMH is also proud to offer over 30 consulting specialists providing outpatient services in a variety of different areas including cardiology, oncology orthopedics, radiology and more.
Montgomery County Memorial Hospital
2301 Eastern Avenue
Red Oak, Iowa 51566
(712) 623-7000
The Best Golf Course in Southwest Iowa
The Red Oak Country Club boasts an 18-hole, par 72, championship golf course that is easily one of the most challenging and picturesque in all of Western Iowa. The course is carved among gorgeous natural scenery and players will encounter water hazards, sand traps, doglegs and blind shots to the greens, as well as uphill and downhill lies and many mature trees. Red Oak Country Club also features a driving range, swimming pool, a lounge area with televisions, a full-service restaurant, golf lessons, a pro-shop, a junior golf program and club-sponsored parties throughout the year.
Red Oak Country Club
2038 200 St.
Red Oak, IA 51566
(712) 623-4281
Just some of the things you can do while in Red Oak:
You can visit museums, take historic tours of the community, play in our parks or visit our YMCA. Enjoy a movie at our historic Grand Theatre or take in a live performance at the Wilson Performing Arts Center. You will find a variety of outdoor activities available in our beautiful parks such as hiking, biking, golfing and swimming.
Wilson Performing Arts Center
The 23,000 square foot state of the art facility, opened in 2009, provides a 256-seat auditorium, performing arts and arts education, featuring professional touring entertainment, community theatre, regional performers, educational classes in dance, strings, voice, piano and percussion, and an art gallery in the lobby featuring local visual artists.

300 Commerce Drive
Red Oak, Iowa
(712) 623-3135
Anderson Wildlife Area
A 229-acre area of rolling hills, trails, prairie and marshland, the Anderson Conversation area has been set aside for the preservation and reintroduction of native Iowa wildlife and vegetation. Wolfe Nature Center, located within Anderson, offers seasonal displays and classroom/meeting areas, as well as educational programs that can be conducted both on site and in schools. Guided hikes are available for both school students and adults.

One mile off US 34, just east of Red Oak.
Burlington Northern Depot/WWII Museum
Dedicated on December 20, 2003, on the 100th anniversary of the first dedication, the restored Burlington Northern Depot now houses a WWII Memorial Museum, docent and self-guided tours, and an orientation auditorium with a rear projection TV viewing screen. Hours of operation are by appointment.

305 South Second Street
Red Oak, Iowa
(712) 623-6340
Red Oak Grand Theatre
The non-profit, volunteer run Red Oak Grand Theatre is here to serve the citizens of the greater Montgomery County area, by providing affordable, family-oriented movie entertainment. Showtime's are every Friday, Saturday and Sunday at 7:00 pm. Admission to the show is only $2.00 per person; which provides a fun, family-affordable entertainment option.

410 East Coolbaugh Street
Red Oak, Iowa
(712) 623-3169
Red Oak Public Library
Today this Carnegie Library, the last of its design to be constructed, sits on the national Register of Historic Places, and offers a wonderful combination of historic beauty and modern services. The Red Oak Public Library was built in 1909 and is also featured on Red Oak's Heritage Hill Tour.

400 North Second Street
Red Oak, Iowa
(712) 623-6516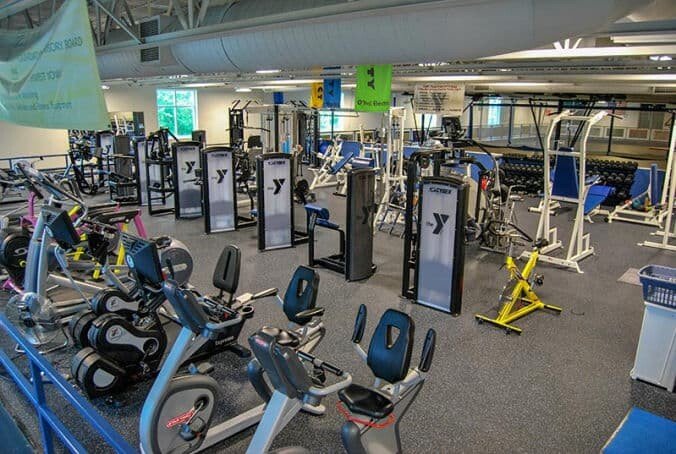 Montgomery County Family YMCA
Fun and fitness are found year-around at the Montgomery County Family YMCA, which offers facilities and programs for all ages and fitness levels. Comprehensive facilities and programs include: health and fitness center, full-court gymnasium, babysitting service, suspended walking track, zero-depth swimming pool, four-court indoor tennis center with viewing area, racquetball/squash/wally ball court, Jazzercise, and so much more!

101 East Cherry Street
Red Oak, Iowa
(712) 623-2161