The Anderson Conservation Area & Anderson Wildlife Areas
The Anderson Conservation Area and Andersen Wildlife Areas are operated and managed by the Montgomery County Conservation Board. The Anderson Conservation Area is home to the Wolfe Nature Center, and serves to provide outdoor educational experiences for schools and members of the community. There are 3 miles of trails on the Anderson Conservation Area grounds, as well as a 10-acre pond. The land the conservation sits on is reconstructed prairie and serves to promote wildlife populations. Our offices operate on an appointment-only basis, you can contact our director or our naturalist for more information to schedule a visit. We welcome individuals or large groups to contact us for any environmental education needs. The Andersen Wildlife Area is a public hunting area, open during all hunting seasons. The Montgomery County Conservation Board plants food plots to support species of interest, such as Bobwhite Quail, Ring-necked Pheasants, and Whtie-tailed deer. 
One Mile off US 34, just east of Red Oak.
(712) 623-4753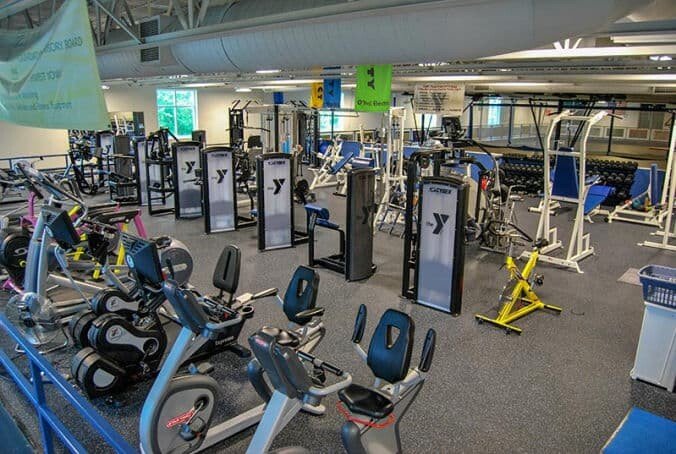 Montgomery County Family YMCA
Fun and fitness are found year-around at the Montgomery County Family YMCA, which offers facilities and programs for all ages and fitness levels. Comprehensive facilities and programs include: health/wellness center, full-court gymnasium, suspended walking track, zero-depth entry swimming pool, 4 court indoor tennis center with a viewing area, racquetball/squash/way ball court, pickle ball courts, various water & land exercise classes and so much more! 
101 East Cherry Street 
Red Oak, Iowa 51566
(712) 623-2161 
Montgomery County History Center
The Montgomery County Historical Society was organized in 1945 to preserve and share our county's history. During the 1980's, members met in Pittsburg School, which they restored and preserved. In 1995, the Society opened its first History Center, and in 2006, the Gala Grand Opening of our present 14,000 square foot building was celebrated.  
The History Center offers a wide variety of artifacts, documents, photos and more. There are several rotating displays and exhibits. They are also home to a lecture hall, a library, archives, immigration records and much more.  
2700 North 4th Street 
Red Oak, Iowa 51566
(712) 623-2289 
Montgomery County Memorial Hospital
Serving Montgomery County since 1907, the Montgomery County Memorial Hospital (MCMH) is truly the health care leader in southwest Iowa. Their practices and technology have evolved with time. MCMH is committed to serving the needs of their patients as well as improving the quality of life in Montgomery County.  
MCMH offers a wide range of patient services: emergency department, women's health center, a breast health clinic, cardiac and pulmonary rehabilitation, diabetes education, Heartland Home Health, Heartland Hospice, a laboratory, nutrition education, physical therapy, radiology, social services, and Work Health Solutions. MCMH is also proud to offer over 30 consulting specialists providing outpatient services in a variety of different areas including cardiology, oncology orthopedics, radiology and more. 
2301 Eastern Avenue
Red Oak, Iowa 51566
(712) 623-7000 
The Red Oak Country Club boasts an 18-hole, par 72, championship golf course, that is easily one of the most challenging and picturesque in all of Western Iowa. The course is carved among gorgeous natural scenery and players will encounter water hazards, sand traps, doglegs and blind shots to the greens, as well as uphill and downhill lies and many mature trees. Red Oak Country Club also features a driving range, swimming pool, a lounge area with televisions, a full-service restaurant, golf lessons, a pro-shop, a junior golf program, and club-sponsored parties throughout the year. 
2038 200 Street
Red Oak, IA 51566
(712) 623-4281 
Renovations for the Red Oak City Pool began in the fall of 2019. The pool is now complete and open for business. There are many features and ammenities including zero depth entry, racing lanes, a diving board, a large water slide, a family style slide, rock climbing wall, a water feature and more!
Accessible to Persons with Disabilities
Admission Fee
108 Legion Park St, Red Oak, IA 51566
(712) 623-6521
In July of 2021 the Red Oak Grand Theatre was organized as a non-profit that is completely ran by volunteers.  The theatre opens its doors to many organizations, schools, daycares, care centers and other groups in Montgomery County and beyond.  The Red Oak Grand Theatre provides movie goers of all ages in Montgomery County and Southwest Iowa a nearby place to see a movie by and is very affordable with only a $2.00 movie ticket cost.  The Theatre board is proud of the two beautiful screens and to provide affordable entertainment for the
entire family.  The board believes the theatre is a strong component of our community and a great example of what a community can do by working and volunteering together. 
410 East Coolbaugh Street 
Red Oak, Iowa 51566
(712) 623- 3169 
Red Oak Municipal Airport
the Red Oak Municipal Airport (RDK) is a modern facility with 24-hour 100LL Ave Gas and Jet Fuel availability, courtesy car service, flight instruction, an overnight lobby, two paved runways, with the primary runway being 5,100 feet long, and a turf runway. 
Monitor 122.800 frequency for navigation and to activate runway lights. A.W.O.S./ Weather Frequency 123.925 
Hangar spaces available. Cessna 150 for rent. 
1674 200th St 
Red Oak, Iowa 51566
Today this Carnegie Library, the last of its design to be constructed, sits on the national Register of Historic Places, and offers a wonderful combination of historic beauty and modern services. The Red Oak Public Library was constructed in 1909 and is featured on Red Oak's Heritage Hill Tour. The staff take pride in their work and it shows in their dedication to educate children in fun and inventive ways. The Red Oak Public Library hosts and sponsors many children's programs for the community. 
400 North 2nd Street 
Red Oak, Iowa 51566
(712) 623-6516 
28 Parks & Green Spaces in the Heart of Southwest Iowa.
During the early 1900's Red Oak was renowned for its incredible park system. To this day, Red Oak still has great park amenities all throughout the community.
Use the map to navigate Red Oak's web of parks & green spaces. You can also learn more information about the parks below.
** Brown trails = dedicated recreational trails
** Green trails = share the road bicycle trails
The Red Oak Trails are the newest addition to Red Oak's vast recreation system. The 2.7-mile trail begins at the YMCA and travels east toward the top of the hill at Eastern Ave., then returns downhill, back to where the trail begins. 
Along the trail you will discover plenty of things to do.   You can wander through the apple orchard, take a seat on one of the many benches and watch the wildlife, or enjoy the historic sculpted monuments from the 1800's and early 1900's in Evergreen Cemetery. You cannot get lost on the trail, but your mind will wander as the beauty of nature and the friends you meet along the way make the experience so enjoyable. 
Whether you are on the trail in springtime, when the flowers are just beginning to bloom, or in the fall when the leaves on the burning bush are turning blazing red, the joy of the trip will be part of your memories for a long time. The trail is traveled by many; there are people who power walk, many who jog, and some who just enjoy a leisurely stroll in the early morning or in the afternoon, after a day's work. Trailhead information is located at Legion Park.  
Restored Burlington Northern Depot/ WWII Memorial Museum
The Restored BN Depot and World War II (WW II) Museum provides a significant link between Red Oak's past and present. Early in Red Oak's history, the Chicago, Burlington & Quincy (CB&Q), which later became the Burlington Northern (BN) railroad offered unparalleled access to urban markets and goods both east and west. The Depot, built and dedicated in 1903, provided passenger, cargo, mail and telegraph services to Red Oak and surrounding communities. The Depot's Richardson Romanesque architecture was among the most influential building styles of the era and incorporates several notable design details. A group of citizens led by Jackie and Lynn Adams formed the Save Our Depot, Inc. non-profit in the 1990s to restore the Depot which was slated for demolition. The Restored Depot was rededicated on December 20, 2003, its 100th anniversary, and is listed on the National Register of Historic Places.
The Museum houses a variety of railway artifacts and historical information plus commemorates Montgomery County's unique sacrifices and contributions to World War II through exhibits of military artifacts, documents, personal stories and other WW II memorabilia. The Restored BN Depot and WW II Museum is open to the public, Monday-Friday 10 am – Noon, for self- or docent-guided tours. It also hosts special educational programs and is a beautiful, affordable venue for corporate and private events.
To visit the Museum at other times by appointment or to book an event, contact Jolene Crawford at (712) 621-9099. Learn more about the Museum on Facebook @RestoredBNDepotWWIIMuseum
305 S 2nd Street
Red Oak, IA 51566
(712) 623-6340
Wilson Performing Arts Center
In 2009 a 23,000 square foot, state of the art, performing arts facility was opened to serve all of SW Iowa. The Wilson Performing Arts Center is home to a 268- seat auditorium which hosts professional touring entertainment, community theatre and regional performers. Along with the beautiful auditorium the WPAC has a professional dance studio, meeting/rehearsal room and technical studio and the lobby is home to an art gallery that features local artists from all of SW Iowa. Some of the many activities hosted at the Wilson Performing Arts Center include: private and group lessons in dance, voice and piano. Numerous arts education camps and professional outreach opportunities and numerous community events. The Wilson Performing Arts Center serves some 5,000 customers per year.  
300 Commerce Drive 
Red Oak, Iowa 51566
(712) 623-3135